Do I major in math or computer science? Focus on business strategy or product? Take a job in finance or biotechnology? Many of us have to face difficult career decisions like these throughout our lives. Receiving a degree in computer science, taking a job at an investment banking firm, founding a music company AND becoming a VP of Product at a biotech company, all by our 30s, sounds impossible. But, there are a select few among us who have "done it all," so to speak, and Basepair is lucky to have one of them on its team: Saurabh Agrawal. 
Saurabh recently joined Basepair as the VP of Product. A bona fide polymath, there are few areas where Saurabh does not excel, so I spoke with Saurabh to see why he chose Basepair and the field of genomics.
Building a Foundation
From a young age, Saurabh was interested in a number of subject areas, including math, physics, architecture and computer science. After finishing an undergraduate degree in computer science at a prestigious technical university in India, he entered the job market without much direction. In Saurabh's words, he "accidentally stumbled" into a job at an investment banking firm. While he thoroughly enjoyed his time at Deutsche Bank (and even met his wife there!) he knew he would be better suited at a company which would allow him to work more independently.
Soon, a new opportunity presented itself to Saurabh in the form of a small group of friends and musicians who wanted to create a portal for people to discover indie music. Saurabh had always had a deep respect for music, playing both the drums and the piano in college, and was eager to work at a start-up. Planning to utilize his experiences in finance and his degree in computer science, Saurabh joined and officially founded the music-tech startup Jukebox Studio in 2014.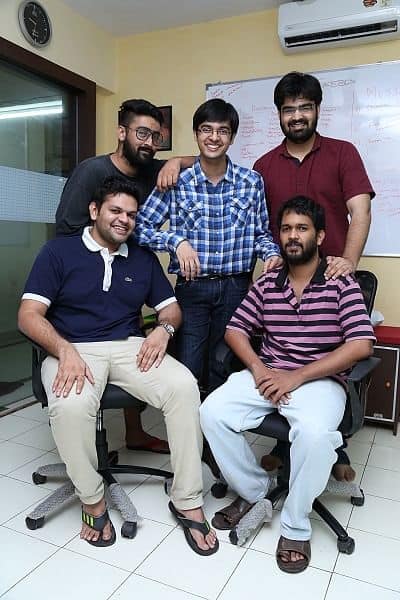 Saurabh (center) with the Jukebox team
Over the course of four years, Saurabh grew the company to over 1,000 paying customers, until it was eventually acquired by Gaana, the largest music streaming service in India. He gained invaluable experience at Jukebox Studio, designing and coding the technical architecture of its product while also optimizing its business model. With a successful exit and first-hand understanding of the business, product and technical facets of working at a startup, Saurabh was ready to tackle the next challenge.
The Transition into Genomics 
Saurabh had actually never considered working in the genomics/biotech industry. In fact, he wasn't interested in biology at all.
"Getting into genomics was not really planned. It was pure coincidence because I just happened to run into [Basepair founder] Amit at an incubator," Saurabh recalls. 
After connecting with Amit Sinha, Saurabh had a change of heart. 
"The current state of bioinformatics is like a window into the past of technology. Amit puts it quite well — on one hand we have social networks, ads and such with super cutting-edge tech; on the other, the state of tech in things powering cancer treatment is in quite a sorry state. This gap, and the rapid general growth, are what excite me about the potential in this industry."
While Saurabh's official title is VP of Product, his work can change dramatically each week to meet the needs of the company, ranging from fixing quality of life issues to adding technically-challenging enrichment tables to Basepair's product.
"The role is basically doing whatever is most needed at that time. In the short term, this is mostly tech, since more hands on tech is the need of the hour. Longer term, I'll probably slowly transition to product and business as the team grows." 
Looking Ahead
Asked where the NGS sequencing and analysis space will be in 10 years, Saurabh's answer is pretty straightforward: 
"Automate everything, run everything on the cloud and run everything fast, maybe throw some machine learning in the mix. Each of these steps seems trivial, but requires thoughtful innovation and time to do right. In ten years, I'd imagine that the time it'll take from a sequenced gene to (actionable) insights from it based on the latest research will be near instant."
With Saurabh on the Basepair team, the future is promising.