New York, New York. – September 11, 2023—Astride, a leading distributor of Next Generation Sequencing (NGS) services in Japan, has partnered with Basepair, a pioneer in point & click bioinformatics, to distribute its federated analysis & interactive visualization platform to the Japanese market, effective immediately.
The agreement marks the start of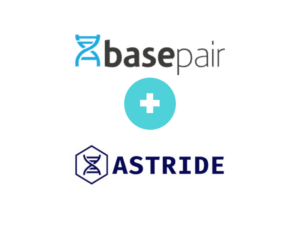 an expansion of the commercial footprint for Basepair globally and paves the way for a growing user base of its platform in Asia. The agreement covers the full breadth of genomics analysis tools, pipelines and interactive visualizations available to subscribers of the platform, including DNA, RNA, Epigenetic and multi omics capabilities. By adding Basepair to its portfolio of NGS-based services offerings, Astride will be able to offer a more comprehensive solution to its customers from wet lab to interpretation.
Astride has a strong track record of partnering with life sciences organizations that leverage genomic data as part of their R&D activities. Its existing relationships with Twist Bioscience and Novogene have enabled it to develop an extensive network of connections in both the public and private sectors of the scientific community in Japan, making it ideally positioned to support the rapidly growing NGS market there.
"NGS is a powerful and emerging technology that is used for various applications to support scientific research in life sciences organizations" said Hideki Yakushiji, Astride CEO. "Although there are several software tools available on the market, they often require data to be uploaded to a hosted solution outside Japan and involve complicated commands and steps to analyze the underlying data, which are often not easy to follow by researchers without relevant bioinformatics expertise. Basepair offers a low code / no code, user-friendly web-based interface that enables researchers of all backgrounds to easily QA/QC, analyze and interactively explore NGS data without the need for data movement. We believe partnering with Basepair will enable Japanese researchers to overcome the challenges currently experienced with other more traditional offerings, accelerating the advancement of science in our country."
Basepair's CCO, Simon Valentine, commented that "One of our goals for 2023 was to start growing our network of distributor partners globally, but because of the cultural and language differences, Japan was especially important for us. We are thrilled to be partnering with Astride and that they saw value not just in our ability to simplify NGS analysis and interpretation, but also in our coupon-based business operations layer that enables them to offer pay-as-you-go access to their own version of Basepair as opposed to selling licenses of third-party software. Combined with white labeling, this enables distributors to effectively have their own software application, helping with brand loyalty. We look forward to supporting Astride in their ongoing effort to help their customers leverage NGS data to accelerate time to scientific insight."
About Basepair
Basepair Inc is a market leading point & click bioinformatics company focused on unlocking the full potential of next generation sequencing (NGS) technology. By empowering more scientists to understand the meaning and value of genomic data while keeping it secure in-place, we help accelerate the scientific and diagnostic breakthroughs that bring lifesaving medicines and treatments to the patients that need them. To learn more, visit www.basepairtech.com
About Astride
ASTRIDE is a leading distributor of Next-Generation Sequencing (NGS) and gene synthesis services in Japan. Understanding life's phenomena requires the use of a variety of scientific approaches and at ASTRIDE, we select new technologies from around the world and provide services from experimental planning to scientific discussions, ensuring the best scientific results are delivered to our customers. ASTRIDE aims to assist Japanese researchers in accelerating the advancement of science. To find out more about us, visit www.astride.jp. 
For more information about Basepair's availability on AWS Japan or to sign up for a free trial, visit https://basepairtech.jp/
Contacts
Basepair Inc.
For media & general inquiries – Simon Valentine (simon@basepairtech.com)
Astride Inc.
For media & general inquiries – Hideki Yakushiji (hideki.yakushiji@astride.jp)